THE CHICAGO CATHEDRAL DISTRICT LUXURY MARKET UPDATE – CHICAGO, IL – MAY 2014
Inventory Update on the Chicago Cathedral District Luxury Homes
Settled within the River North neighborhood boundaries, the Cathedral District is home to some of the most sought after luxury residences in all of Chicago. Buildings such as 55 East Erie, The Pinnacle and 800 Michigan Avenue truly bring luxury living to this neighborhood niche.
As discussed in our last post regarding months supply of inventory, (MSI), for the Streeterville neighborhood, the Cathedral district is quickly pacing for a record year and rebounding well from the downturn at the end of the 2000's. This key indicator of real estate market health, is one of the first to consider when discussing any local real estate market.
Based on the most current available statistics from April 2014, we can see in the cumulative chart below that the Cathedral District MSI has been significantly reduced over the past 2 years across all price quartiles. The only segment to not follow a continued decline is the entry-level market, ($275K and below), which has been a primary focus of new construction delivery and move-up-buyers listing their homes.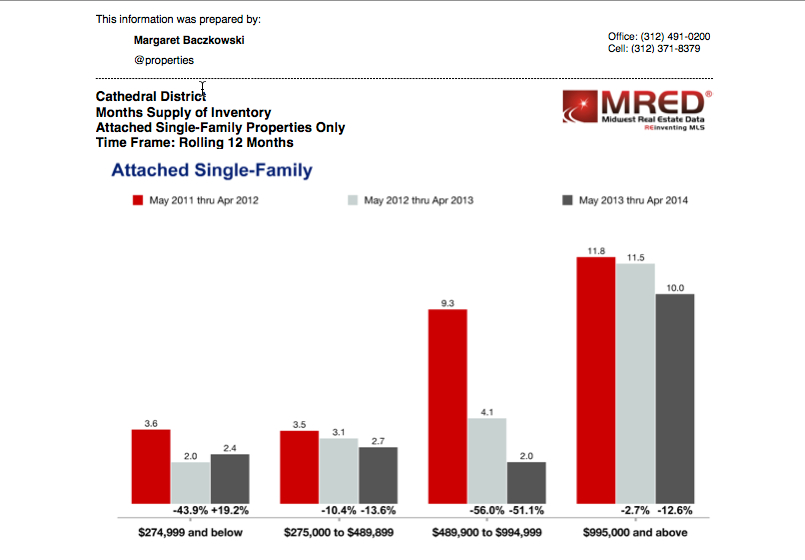 Specifically focusing on the luxury segment of the Cathedral District market, we have seen a significant decline in available inventory, closing out the month of April at roughly 10 months supply. Where these rates are higher than the normal inventory rates we would like to see, (4-6 months on average), it does show a positive trend for the higher priced marketplace.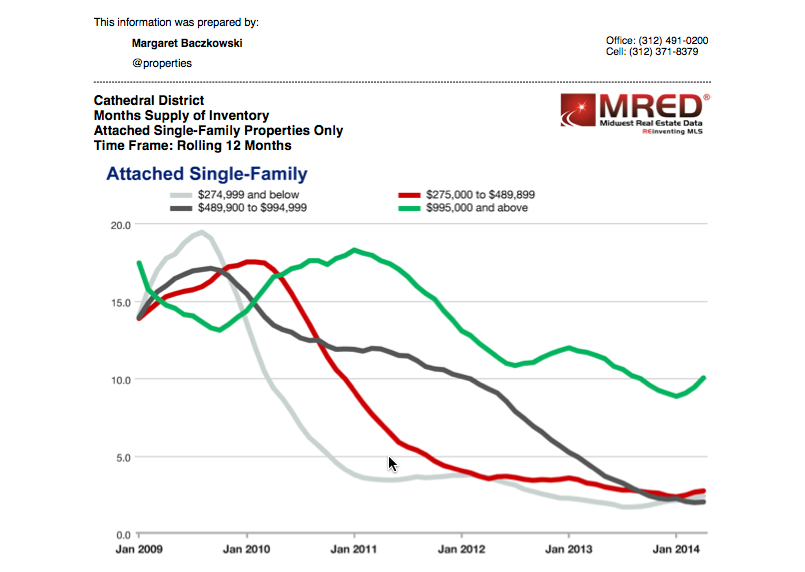 The greatest reduction in available homes that we can see in this segment of the market is in the $495,000 – $995,000 price quartile. Down nearly 52% from the year prior and almost 80% from 2011, this piece of the market is highly desirable with homebuyers in the market today. This segment, as indicated in the chart below, has an average active market time (time from list to contract) of roughly two months based on the last twelve months of data.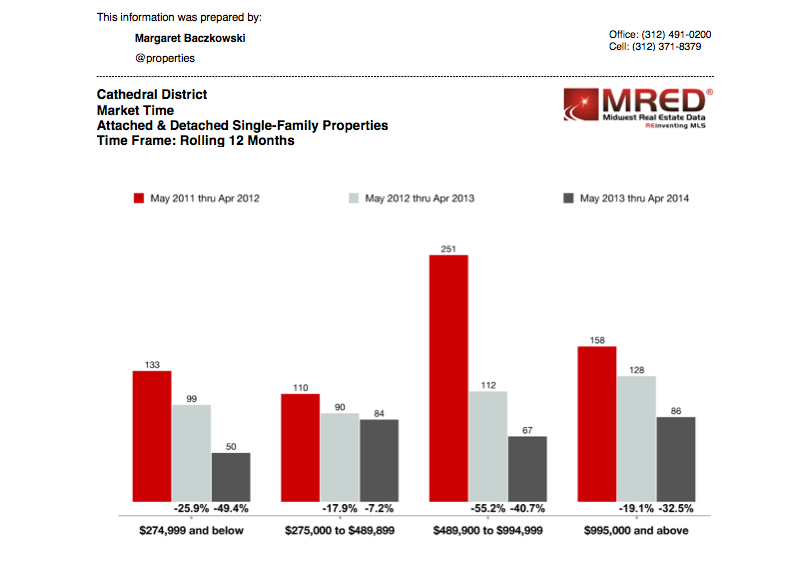 Based on a successful Spring market and lack of readily deliverable new construction units in the Cathedral District, we expect this number to continue to decline for most price points over the next months.
Please don't hesitate to reach out to use with any questions you may have about the data provided or specific questions on your building. Whether buying or selling, we can help you understand the trends and local market to make a sound real estate decision. (Download all slides for the Cathedral District real estate market here)